Then and Now: Sheila Billy
Hang on for a minute...we're trying to find some more stories you might like.
English teacher Sheila Billy, a new addition to the staff, taught at Miramonte High School prior and has been teaching for a total of 22 years. In an interview, Billy shares her past and current experiences in the realm of working with students.
Where did you work prior to receiving this job?
"Before coming to UPA, I taught in the Acalanes Union High School District at Miramonte High School in Orinda, which is in the East Bay. I left because I just wanted to explore. I taught for a long time on the peninsula, that's mostly where I've taught and I wanted to explore my options outside of the regular public high schools. I had heard a lot of good things about UPA and actually what really impressed me was the school [newsmagazine]. I went online and read the paper, and I was so impressed by the originality of the ideas and thinking and writing ability. I wanted to be a part of that and try something different."
How long have you been teaching for and how did you begin?
"I've been teaching for 22 years. When I was in high school, I got recruited to be a tutor. I went to a high school in San Francisco and so I tutored some elementary students in the Mission District and I really like doing that. That got me started. Then, I was really interested in journalism because I was on the school newspaper too, but then when I was in college, I got counseled by my professors that an English degree would give me more variety and I started tutoring in college as well. It just seemed like a natural fit so I became a teacher. I guess I'm more of a helping person."
What have been some of the highlights of your teaching career?
"I just love working with students and seeing them achieve and gain confidence in themselves. Last year, I had a student who was a really accomplished surfer who was in magazines and that's all he lived for. I challenged him to become a good writer because I knew he had the ability, and he did. He wrote this amazing article and I told him 'you could write for surfing magazine or have a blog," and he gained a lot of confidence to do that. When I see student's have individual success, get inspired by their own writing and discover their own abilities and their own voice, that's really a highlight for me."
"
I hope to give my students the strong skills they need to pursue advancement as they're learning and also to give them a desire. I want them to enjoy learning and to see the value in it. "
— Sheila Billy
How did you get this job and what is your first impression of UPA?
"I saw that there was a job opening, and I just applied for it with my resume. I got a call from Mr. Ordaz and came in for an interview. It just felt like a perfect fit. Everybody I met, I just loved them immediately and I felt so at home right from the beginning. The students made an excellent impression, and they still do. For all my years of teaching, I think I've met some of the best students here in terms of being motivated, in terms of being respectful to their teachers, in terms of their own education and taking charge with that. So I'm just amazed by the very high quality students here."
What are some of your hobbies outside of school?
"I go to literary events at Mill Valley Library. I've met Isabel Allende and Maxine Hong Kingston who are pretty famous writers there. There was also a playwright workshop. I went there thinking 'oh I'll try this out, maybe my students will like it.' There were these published playwrights and this guy from L.A. who was a screenwriter. It was really exciting, but intimidating. We got to write 10 minute plays and we performed each others' plays. I like activities that connect with literature. I also try to be creative. I like to design my house, and I'm actually in the middle of redesigning my bathroom. In addition, I love to travel a lot. I want to plan a trip for this summer and go to either Europe or maybe Latin America. I've traveled to Europe before and to Mexico, but I've never been to Asia or deep into Latin America."
What do you hope to bring to your students?
"It always varies with the grade level. I have eighth grade and tenth grade mostly, and with those grades I'm trying to build skills. I hope to give my students the strong skills they need to pursue advancement as they're learning and also to give them a desire. I want them to enjoy learning and to see the value in it. With the older kids — I do have an eleventh grade class — I like to inspire them to discover their own creativity and their own voice as they read literature and write. I want them to personalize it and for it to matter to them."
About the Contributor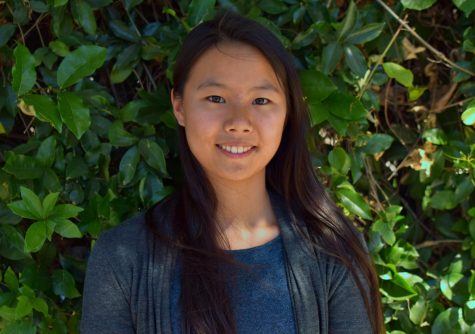 Emily Hung, Co-Editor-in-Chief
Emily Hung is a senior and the current co-editor-in-chief of Aquila. This is her fourth year as a journalist, and she is planning on majoring in journalism...