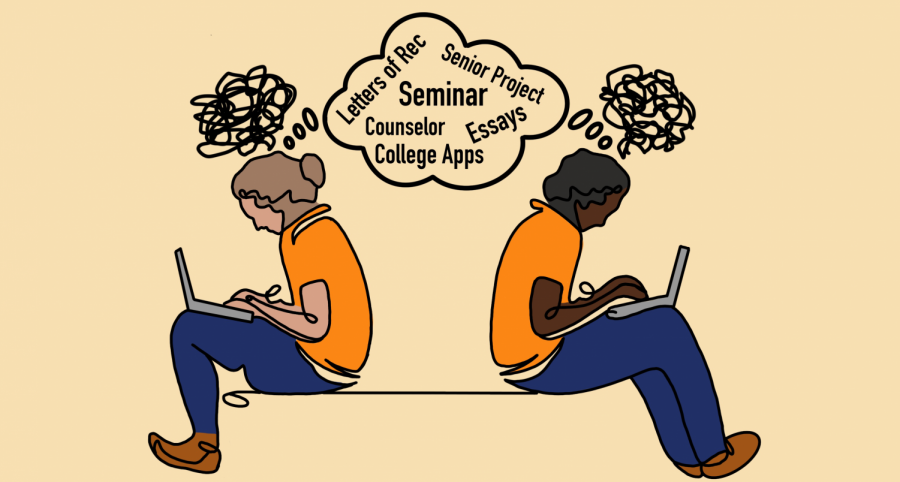 Akshara Kollu
Sandra Trotch, UPA's junior and senior counselor and AP English Language and Composition teacher since 2008, retired July 1. When seniors learned of her retirement three weeks later, they were left wondering how UPA would guide them through college applications and other functions of their senior year, especially given the extraordinary circumstances of the COVID-19 pandemic.
"I think a lot of people at school, as well as me, really need her help with their essays, so I was looking forward to working on essays [with her]," senior Tania Anand-Kumar said.
On Aug. 5, Executive Director David Porter participated in a Zoom meeting with the senior class—along with freshman and sophomore counselor Dot Westerhoff, Assistant to the Executive Director Emma King and ASB Advisor Nicole Sebek—and discussed UPA's plans for seniors for the upcoming school year.
"This is starting to feel like a continuation of last year's senior class, and if you have some ambivalence or some concerns around that and that experience, know that we're carrying that burden with you as well, and we want to do everything we can to give you those experiences of your senior year," Porter said.
Trotch's teaching responsibility within the English Department has been split up. English teacher Jessica Wall, who has taught and continues to teach English 9, and new English teacher Meredith March, who also teaches English 7, took over Trotch's AP English Language sections.
Trotch's role as the junior and senior counselor and Westerhoff's as the freshman and sophomore counselor were merged into a single full-time position: high school counselor. Westerhoff temporarily filled this role, but she and Dr. Juan Mendoza-Romero, a new staff member at UPA, are the two high school counselors as of Sept. 8. As explained in a Sept. 8 email from Porter, Mendoza is the counselor for all high school students with last names from A to L and Westerhoff takes students from M to Z.
A large part of Trotch's role as a counselor was supporting and guiding seniors through their college applications, and this responsibility is being expanded as well. Seniors will have the opportunity to work with college application agencies and consultants outside of UPA. Porter mentioned trainings, evening meetings and possibly seminar lessons to help seniors with application editing and provide them with the most up-to-date information on how admissions officers evaluate essays.
"The first name in our school name is University," Porter said. "Our mission is to make sure you succeed in college, so we're committed to making sure that the application process, the college essay process, is fully supported from A to Z."
Essays and Applications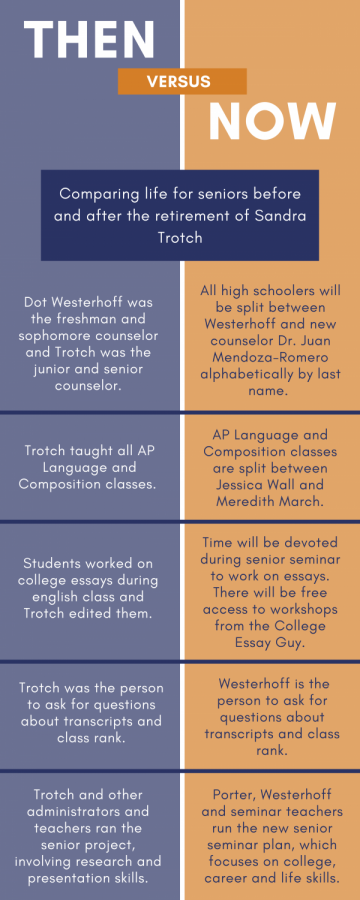 One outside consultant, the College Essay Guy, is providing workshops for essays and applications free to UPA seniors. The first session was on Sept. 12, and more details about Ethan Sawyer, who leads the course, as well as registration, were sent to seniors in an Aug. 25 email from Westerhoff.
"This is an incredible opportunity to learn and grow and submit the best college application that you possibly can," Westerhoff wrote. "We will provide individual follow up coaching, as well, if that is helpful to you."
Senior Haley Roberts, who attended the Sept. 12 workshop, said it was about getting started on essay questions and how to come up with ideas for topics to write about on those essays.
"It's extremely helpful, because it makes you feel less alone," Roberts said. "Especially because we're all by ourselves it helps having someone who says, 'here's some guidelines,' and makes it seem less crazy."
Porter, Westerhoff and Director of Curriculum and Instruction Matt Daugherty have also been working on Cal Grant financial aid for seniors since June, another responsibility previously handled by Trotch. Porter emphasized the need for financial aid given the current costs of college and mentioned they hope to set aside some time in the spring, both in seminar and after school, for seniors to apply to as many scholarships as possible.
In addition to her teacher and counselor roles, Trotch led UPA's chapter of the National Honor Society (NHS), an organization that helps connect seniors to opportunities for college preparation, essay workshops, community service and scholarships. Porter agrees that the NHS is important for students; however, he, Westerhoff, and Mendoza have not yet confirmed who will take on that responsibility.
As both the senior counselor and AP English Language teacher, Trotch was able to use her class to help seniors write and edit their essays. With her retirement, however, input and edits on college essays will no longer be limited to AP English Language, as essay work time will instead be during seminar and after-school sessions.
"[The sessions] will be very much like a course, in terms of distance learning times, but the goal is to provide not only specific instruction about how to write that essay, but also tutoring-like aspects where we could provide specific feedback," Porter said. "What I would imagine is probably every week until applications are due, you'll have some sort of support system built in where we can fit it in to give [seniors] as many opportunities as possible."
Counselors will also provide group and individual assistance with college applications and essay feedback, and will host workshops for parents and students about the college application process, the Free Application for Federal Student Aid (FAFSA), and other financial aid information. More information about these workshops will be sent out by counselors, and a schedule of the dates and times for each grade's workshop meeting was sent on Sept. 11 via a Schoology update by middle school counselor Jill Buensuceso.
In terms of letters of recommendation, senior classes normally reach out to their teachers for letters near the beginning of senior year. Porter said he, Westerhoff and Buensuceso are all ready to write letters, and in a Sept. 3 Seminar Zoom meeting, Westerhoff and Buensuceso explained the process for requesting letters from other teachers as well. Both counselors and teachers require a brag sheet and a list of the colleges their letter would be sent to and the deadlines to send by. Counselors also require a cover letter explaining why the student is requesting their letter from that specific counselor, however this information can be part of the email sent to a teacher requesting the letter.
"It's a great honor to be able to speak on your behalf," Porter explained. "I love that part. It's not always easy, but I do like the process of just being able to say in my own words how important and how accomplished each one of you are, in your own unique ways, with your own unique stories."
Class ranks and transcripts are two important parts of college applications, both of which were previously handled by Trotch and are now overseen by Westerhoff. Class ranks appear on UPA's new, redesigned transcripts, which were sent to students on Sept. 14 and are available upon request from Westerhoff.
Senior Seminar

In past years, Trotch was one of the teachers and staff members who coordinated and evaluated senior projects and presentations. Her retirement, however, was not the only obstacle to keeping the project this year.
"I am a huge proponent of our senior project," Porter wrote in an Aug. 11 email to seniors. "The focus on pursuing a passion with research and hands-on experience combined with a formal presentation puts a powerful exclamation mark on your tenure at UPA. COVID-19 has made the hands-on part of the experience completely impossible. For those reasons, and with a heavy heart, we are postponing the senior project for the class of 2021."
Porter's email continued by explaining a new senior seminar plan designed to help prepare seniors not just for college applications, but also for their lives beyond college and in their careers.
"By the time a senior graduates from UPA," he wrote, "they will have written a successful college essay, completed their university applications, developed an academic resume, submitted their FAFSA, applied for scholarships, reflected on a career interest survey, marveled at a well-written job resume (with references), developed budget and finance skills, identified their strengths and future challenges, and left their mark on UPA."
Porter sees the senior project as a way for students to demonstrate the skills they have learned over their six years at UPA by doing research about a topic they are passionate about. He believes those skills give UPA students an advantage in their first few years in college and are applicable even later on in life as they go on to conduct research, write papers, and present findings. Although he recognizes the seminar plan might not provide all these skills from the project, Porter does believe that the plan will be beneficial in other ways.
"The plan for the class of 2021 will still provide a lot of those same skill sets, but also finally get us to branch out and provide some hands-on skill sets that students have been talking about for a long time," Porter said. "So while it might not have the same power that the senior project and presentation would have, I really believe that what we built will give students some hands-on experiences, but also some real practical understanding of what it takes to survive in this ever-changing world."
Senior Kylie Malone believes the new seminar plan will be more useful to seniors than the old senior project. She was excited to do the senior project, but explained that students who are already interested in its service learning themes will likely find their own opportunities outside of school, whereas students who are less interested would just be under unnecessary stress and pressure. For her, the new plan could fill the gaps of skills that she would not have learned elsewhere.
"Learning about just how to do life is going to be really helpful to a lot of students, especially because this is our last year before we get spit out into the real world," Malone said. "It'll teach us a lot more about life skills and the information we need to survive in the real world."
Anand-Kumar agreed that it will be interesting to see how the new seminar plan works out. She also looks forward to seeing the creative 2-minute videos seniors will prepare to showcase their talents and growth, and to demonstrate life skills like cooking. However, she is unsure whether it will properly prepare them for the research skills the normal senior project emphasizes, which will be important in college.
"I don't know if we'll gain skills like going to a college library and doing research and doing a public presentation, skills that we're not too familiar with and that the previous senior project would have helped us build," Anand-Kumar said. "I think we'll still learn new skills and be able to apply that later on in college or in our life, but maybe not to the degree of what the old senior project was."
Despite the challenges the senior class faces, Anand-Kumar is optimistic that both the seniors and the rest of the UPA community will persevere, take charge of their future and make the most of their situation.
"I know that our teachers and the staff are all trying to do the best they can, and I think that's really great," Anand-Kumar explained. "That's what I love about UPA: how much effort our staff really puts into everything they do. They'll try their best and it's an experience that we're all going to go through together. So in that way, we have a little community to help us do it."
Porter concluded the senior Zoom meeting on a similar note.
"You have dedicated 12 years to your education, and this is the year where you get to really experience the fruits of your labors," he said. "We're going to get through this together, and we're going to find some great successes, so let's continue the great work."
Update: On Sep. 23, March and Wall revised earlier plans and informed AP English Language students that their next unit would include some support and guidance for college essays.