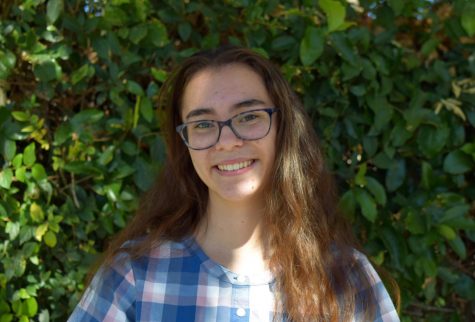 A junior that has been at UPA since 2014,
Arielle Grace Rose-Finn
would like to be mint ice-cream if she could be any ice-cream flavor. In school, Arielle enjoys singing and acting in musicals. She has participated in school productions of  "Singin' in the Rain"
in 2017 and "Emma!"
in 2018, of which she was the namesake lead. When she is not acting, Arielle likes to spend time with her five cats and read books, such as "The Howl's Moving Castle." When traveling, Arielle loves experiencing the different atmosphere of each place; she would like to visit Europe and East Asia someday. Her unique surname is a combination of her mother's — Rose — and her father's — Finn. Not only does she have a cool moniker, but she also inherits her mother's and maternal grandmother's vintage clothes. One item that Arielle favors is a blue brocade jacket which is special to her because it was from her grandmother. Along with vintage clothes, Arielle owns so many socks that her sock drawer is larger than a classroom desk.
Arielle Rose-Finn, Copy Editor