Leading the Blind
Hang on for a minute...we're trying to find some more stories you might like.
I look toward my raiser, eyes shining. I wag my tail with excitement. She gives me treats from her pocket for good behavior. I'm training to be a guide dog.
"The job of puppy raisers is to teach [potential guide dogs] correct house behavior," Karen Brown, raiser of guide dog in training, Cindy, said. "And then also to take them as many places as we can think of; we call it socialization. So, we take them to the mall, the library and stores."  
Guide dogs aid people who are blind with everyday tasks, such as going to the store or taking a walk, which can be challenging. The dog can lead the person safely to their destination.
The guide dog is trained to quickly adapt to its owner's way of life. Once a dog begins to become accustomed to the pattern, they will be able to lead the blind person.
"The blind person and the guide dog have to do the same routine over and over again," Brown said. "The guide dog will get familiar with the route."
In Brown's case, Cindy does not actually belong to her. Cindy belongs to an organization called Guide Dogs for the Blind located in the North Bay that specializes in raising guide dogs. The school started 75 years ago. Brown will have Cindy when she is two years old, then she will go back for more training. Cindy is currently four months old.
"The school realized that the dogs can help the vets in many different ways, and so that's how it started. And they've been helping those people for a very long time."
To pair a blind person with a guide dog, Guide Dogs for the Blind chooses a dog that will best fit the person's lifestyle.
"The types of things that they like to do," she said. "Do they like to be really active or kind of slower—calmer?"
Guide dogs have to socialize because when they go out in the real world, there will be unanticipated distractions such as small children or other dogs. Brown keeps Cindy socialized so she can overcome these distractions.
"Well, truthfully, [training is] pretty much a 24/7 thing," Brown said. "Even right now, the fact that she's hanging out here while we're talking is training. She's just learning to lay here and be calm."
Cindy is a labrador retriever, the most common breed practicing as guide dogs. Brown gives Cindy credit for being a sweet and loving dog while they train together.
"You can put them in pretty much any situation, and they're going to be OK," she said. "She loves me and if she went live with you for a while, as long as you fed her, and you were nice to her, she'd love you."
Brown has experienced some instances when a person approached her and asked to pet Cindy when the dog was working, and she was frankly offended. The person ignored the "Guide Dogs for the Blind harness" Cindy wears.
"If you ever see a dog working, you need to respect the fact that the blind person is depending
on that dog to get them where they're going," Brown said. "And if you go in and interrupt that, then you could possibly cause harm to the blind person."
The raiser does not want to affect the relationship the dog might have with the blind person they are paired with.
About the Contributor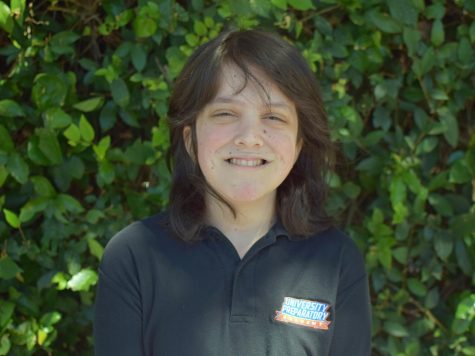 Isabella Bronner, Reporter
Sophomore Isabella Bronner is a first year student journalist and loves Instagram. If she would have to eat one kind of food for the rest of her life,...