Navigating Through Difficulties
How students and teachers cope with long commute times to and from school
It is Wednesday, and AP Biology has a zero period.
Only one student lives 30 minutes away, but with traffic, it takes her an hour.
She wakes up at 5 a.m., and she walks drearily into her zero period class just on time.
She has the whole school day ahead of her and is running on fumes.
This was the routine for senior Amrit Kaur who lives in Gilroy.
During her junior year, she woke up at 5 a.m. and drove herself the traffic-filled, hour-long journey to attend her AP Biology class, which often met early in the morning before first period.
"I think I'm definitely tired, but I've just been doing it for so many years," Kaur said. "I'm used to it, so I learned how to manage it."
Kaur is not alone. Senior Ashley Richard understands what it means to live in Gilroy as well, but she used to live closer to school.
In San Jose, Richard had much calmer mornings, but when she moved to Gilroy in the summer of 2018, the time it took her to go through her morning routine became limited.
"When I lived in San Jose, I naturally woke up earlier," Richard said. "I could take a shower in the morning, I could eat breakfast, and I could get my younger siblings ready and everything. Sometimes I would drop off my younger siblings at school, and I would go to school. Now I wake up, wake everyone else up and then I have to leave. I don't sit down to eat breakfast, go and take a shower or have time to just lay there and rest, so it's more hectic now."
The issue extends beyond students as history teacher Katherine Polorak lives in the northern part of Fremont in the East Bay.
She leaves at 6 a.m. to avoid traffic, which can make a 30-minute drive into an hour. To bypass traffic on her way home, she leaves 30 minutes before the end of school, except when she has office hours on Tuesday.
"I get completely ready in half an hour," Poltorak said. "My husband makes me breakfast, which is a smoothie, [and] I am out the door at six. I drink my smoothie at work."
Poltorak used to live in Morgan Hill when she first began at UPA, but after getting married, she moved to northern Fremont in the summer of 2015 because her husband works in Walnut Creek. She continued working at UPA since she appreciates the benefits she receives teaching at a charter school.
"I really enjoy that it's a charter school which has a focus on college prep," Poltorak said. "I like that I get to teach the courses of my choice. I get to choose Economics, World History and US History. I like that I get to teach the way I want to teach which UPA allows me to do, and I like that this is a very big growth environment for teachers where they always want us be reflecting and growing."
Poltorak also enjoys teaching her students year after year from sophomore to senior year.
"It brings me a lot of joy when I see my students grow," she said. "That's why the work I do with sophomores is helping them set their goals, achieve their goals, grow and be proud of themselves."
Likewise, students consider their location and education as well as their friends and community when choosing the school they attend.
Richard had the chance to attend a different school in Gilroy—Christopher High School—but decided she would stay at UPA for her senior year despite the extra difficulties.
"My friends and I have been waiting for this all of high school and middle school together," Richard said. "With being older, we are allowed to do more things together, and if I would have not been at the school, we would have grown apart. I wanted to make sure I'd be around people I already know to have a fun senior year."
About the Contributor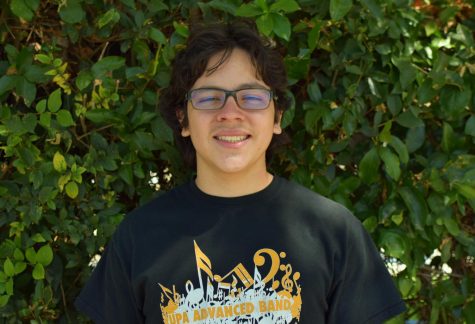 Rafael Castillo, Managing Editor
Rafael Maximo Castillo is a sophomore in his first year of journalism. He is a type of person who enjoys the outdoors; last summer, he went to a couple...