Student by week, YouTuber by weekend
Thoughts ran through her head and were then transferred to a pen scribbling down words that eventually became song lyrics. 
Since June 2019, freshman Kate Feng has streamed two original songs across multiple platforms: Spotify, Apple Music and YouTube. On March 31, she uploaded her first song, "I'm Just Okay," and on April 19, she streamed her second song "Dramatic Life." "I'm Just Okay" is about a friend who moved away. 
"'Dramatic Life' is about all the drama that goes on in schools from different people's perspectives and how harmful it can be to people's egos and confidence," Feng shared. 
Feng said she felt proud after uploading her songs, especially the first one. 
"I always only posted my music on YouTube and being able to post it on different platforms like Spotify and Apple Music was super cool," Feng said. "The reactions I got were so amazing, especially from people I had never talked to." 
Feng has relied on her songwriting to convey her emotions along with her thoughts that she suppressed. In doing so, she developed her love for singing.                                            
"It felt like an outlet for me to pour my emotions," Feng said.                                                     
However, sharing her music and her voice with others was something she never dreamed about. That was until one day when her older sister, senior Dana Feng, encouraged her to do so. It all started at the beginning of seventh grade in Sept. 2017, when Feng was on her bed watching YouTube videos of vlogs by Alex Wassabi and LaurDIY. Her older sister walked past her room and said, "Why are you spending so much time watching other people's videos? You should make your own then."
And that is how Feng's YouTube channel started. Soon, she recognized her YouTube channel with 421 subscribers as a place where she could openly share her hobbies with others.                                                                                        
"It's also a place where I can put my songs instead of them being hidden on my phone or in a notebook," Feng shared.                                                                                                                                      
Her platform gives her the opportunity to reminisce about memories she was able to capture on camera as well as a chance to share her music and work. Oftentimes, Feng likes to look back at her videos, either to see how much she has grown up or to relive a moment at school. 
One of Feng's closest friends, freshman April Nguyen, has been a part of Feng's vlogs.
"I've been a part of several vlogs, including all the birthday vlogs and any of the school vlogs," Nguyen said. "They're very fun to be in when I forget she's recording because I just act like myself." 
Typically, when people see them at school, they are normally together. They have a tendency of getting mixed up at school by both their teachers and classmates
"Sometimes, I'll take [Feng's] phone to vlog something for her, and she'll find random footage later to add to her video," Nguyen said. "It's just capturing moments on that day that we probably would forget in a week, and looking back on vlogs is the best part about them."
Two of Feng's songwriting inspirations include Tate McRae and Billie Eilish.
"They have these emotional and powerful songs that really inspired me to put my own thoughts to music," Feng said. 
Another big influence for her songs are the people in her life, and the encounters and interactions she had faced with them.
For video editing, Feng looks up to creators like Jessica Vu and Sadie Aldis, and while she does not have the same editing tools as they use, she tries to create vlogs through similar aspects such as the editing techniques they utilize. 
"My editing mainly comes into play when I make vlogs," Fend said. "For those videos, especially school vlogs, I just search up similar videos and try to create the same style content through cuts, music and short captions." 
Every Saturday at 2 p.m., Feng uploads a video. However, when she first started out, she did not have a timeline for when she posted and only posted whenever she finished a video. Eventually, Feng thought it would be more coordinated if she were to establish a posting schedule on her channel.
"I usually film and schedule videos at least a week before they are posted, just so I don't have to rush the filming, editing and uploading process every Saturday morning," Feng said.
Up to this point, with her current school workload and overall routine, she has managed a good balance between YouTube and school. 
However, she believes that as soon as she starts taking AP classes, she will start to struggle and need to focus more on APs, perhaps making her uploads less consistent.
Although YouTube has given her a lot of experience with time management, networking and editing, which have been useful for school, it has affected her negatively as well, particularly last summer when she went to Taiwan to visit relatives for the first time in about 10 years.
"[I felt] the urgent need to pull out my camera and record everything, and felt guilty or worried every time I felt like I wasn't filming enough or I forgot to film something," Feng said. "I felt like I didn't fully experience that trip to Taiwan, or experience some events at school, like rallies, because I was so caught up in trying to get the perfect clips for videos."
Typically, Feng is not self-conscious when people watch her videos, particularly if it is an original song she really likes or a school vlog, because she feels proud of her work and knows how much effort it takes to make those videos. 
"However, if people play my covers out loud in front of me I tend to cringe a lot. I feel like that embarrassed feeling," Feng said. 
Typically, she uses song covers as filler videos when she just needs to post something for the week so she gets embarrassed knowing she did not put as much effort as her other videos.
Nguyen said YouTube has been one reason for Feng's happiness.
"When her videos turn out really well or she thinks her voice sounds particularly good, she'll be very excited by that," Nguyen said.
So far, Feng has not received any negativity for her videos, although onces a girl she had never met commented on her singing in a not so friendly way back when Feng was in the seventh grade.
"I see that under those words she had somewhat good intentions and was just trying to help me with my singing in her own special way," Feng said.
For the future, she is considering reducing her uploads to twice a month instead of once a week, but giving it up altogether is unlikely no matter the responsibilities she has to juggle next year.
"I hope in high school I will never come to a complete stop in making videos because it is a great place to make memories and express myself creatively," Feng said.
About the Contributor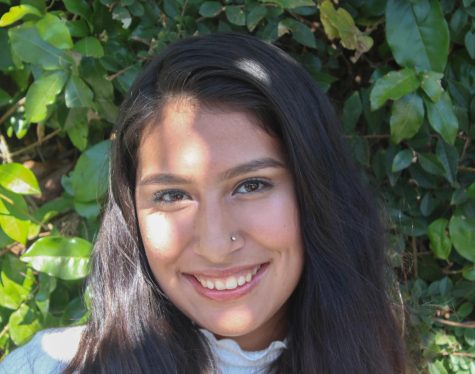 Faith Montes de Oca, Reporter
Faith Amor Montes de Oca is a junior at UPA, and this is her first year in journalism. Ten years from now, she sees herself working on things she enjoys...