One Foot Closer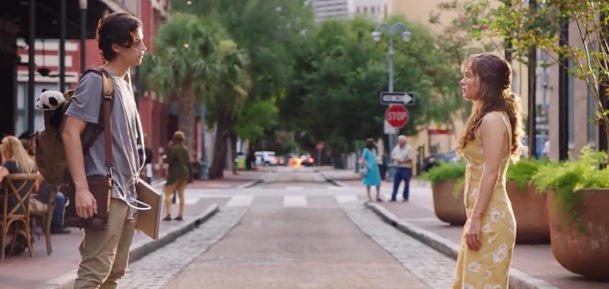 Editor's note: This review includes spoilers for Five Feet Apart.
Cystic Fibrosis: a genetic disease that affects respiratory system organs, mainly the lungs.
The first trailer of Five Feet Apart was released on Instagram and YouTube on Nov. 4, 2018, and I screamed internally because I recalled seeing promotional pictures of the movie back in March 2018.
My eyes widened when I saw Cole Sprouse. His wavy hair, green-blue eyes, and smirk made me squeal out loud. Tears rolled down my face as the trailer continued playing with the song "Remind Me To Forget" by Kygo.
The film follows the story of two Cystic Fibrosis (CF) patients, Stella Grant and Will Newman (played by Haley Lu Richardson and Cole Sprouse) who fall in love, but are restricted to stay six feet apart to prevent catching each other's infections.
If they catch each other's infections, they are at a greater risk of dying.
At the beginning of the movie, Stella makes a YouTube video about what it is like to live with CF, sharing what it is like to not be able to touch her loved ones.
I put myself in her shoes. Imagining not having the ability to touch my friends and family emotionally pained me.
"
I put myself in her shoes. Imagining not having the ability to touch my friends and family emotionally pained me."
This made me realize how lucky I am to be able to share connections with people and interact with them without having to constantly worry about my health.
Stella is meticulous, keeping things under her control with an organized medicine cart and planner.
Stella tries her best to stay positive and optimistic, despite her illness.
On the opposite side of the spectrum, Will is rebellious, sarcastic and attractive.
He doesn't follow his treatments because he accepts the fact that his life is going to result in an early death.
The entire set of the hospital, especially the detailed patient rooms, made me forget that these were all actors playing characters in a movie.
Their life in the outside world is limited because Will and Stella aren't allowed to go to school and live a normal teenage life.
As Stella walks by his hospital room, Will notices and decides to follow her.
He introduces himself, but Stella is guarded at first, finding him irritating.
He goes back to his hospital room and finds Stella's YouTube channel, watching her videos to get to know more about her life as CF patient.
As he watches more of her videos, he smiles and there's a spark in his eyes that reveals he is developing feelings her.
Later in the film, Will and Stella make a compromise wherein if they do treatments together, Will gets to sketch drawings of her.
Stella also helps him set up his medications, so he can be more responsible and become healthier.
He slips envelopes with cartoons of them together under her hospital room door, and she always laughs when she gets these from him.
On Will's 18th birthday, Stella sets up a scavenger hunt for him with purple balloons with letters inside.
The letters lead to destinations which ultimately lead to his birthday dinner.
At the birthday dinner, joined by Will and Stella's friends, they have a cheerful time with delicious food made by Poe (played by Moises Arias), Stella's best friend who also has CF.
His lines are very funny and it brings laughter to the movie, which for the most part is otherwise sentimental and deep.
After they return to their rooms, Poe's nurse gets a call from him and she quickly runs to his room, finding him on the floor.
Nurses and doctors rush into his room, trying to save his life, but fail.
That is when it hits me like a boulder because Poe was the funniest character in this film, and he died out of nowhere.
My tears flow down like a river.
I lost all my hope that both Will and Stella could stay alive because Poe died.
Stella rushes down from her room, crying, and Will's eyes widen as he sees Poe on the ground.
This entire scene is heartbreaking and happened too fast for me to take in.
After Poe's death, something inside Stella snaps.
"This whole time I've been living for my treatments instead of doing my treatments so I can live; and I want to live."
"
This whole time I've been living for my treatments instead of doing my treatments so I can live; and I want to live."
She decides to go see the lights of the city in an attempt to live and enjoy life before it can be taken from her. She convinces Will to go with her.
The beauty of the snow made me forget what had occurred at the hospital, and it seems to make Will and Stella forget as well.
As Stella and Will step foot on the frozen lake, I instantly knew it would lead to terrible consequences.
Although they are close to kissing, they stop because they know they cannot do it, that a kiss or even closeness could lead to death.
I realized that not being able to kiss your significant other is hard in a relationship because they are not able to experience what other couples can. However, Will and Stella's love for each other makes them feel ordinary.
After Stella falls into the frozen lake, they are both quickly transported back to the hospital and Stella gets a lung transplant, for which she has been waiting for more than five years.
Will sets up lights around the trees outside of the window of her operating room and calls her when she wakes up, standing outside her window.
He set up the lights because they never got to see the city lights, but also because he knows he has to say goodbye to Stella forever.
He informs her that he has to move to a different hospital because his medication trial is not working, but most importantly, his sickness can affect her new lungs.
Tears starting rolling down my face again because I thought that they were going to live happily ever after, but now they will not be able to see each other at all.
Stella's parents come into the room and hand her a sketchbook from Will that contains outstanding and realistic sketches of her and their loved ones.
When Will's cartoons were first introduced in the movie, I thought that caricatures were  his drawing style, but he sketched these amazing portraits of her, Poe and them together.
The movie does not show what happens to Will after he says goodbye to Stella forever, making me wonder if he dies or if he gets a lung transplant someday.
Five Feet Apart brings awareness to patients battling CF because the audience learns more about this disease and the patients' lifestyles.
The director of the movie, Justin Baldoni, encourages the audience to learn about the Cystic Fibrosis Foundation and and Claire's Place Foundation; and donate to these organizations for CF patients to obtain treatments and raise morale in their lives.
To prepare for the role of Stella, Richardson met Claire Wineland, a CF patient and founder of Claire's Place Foundation, and emotionally connected with her.
Currently, there is no treatment to cure CF.
Everyday is a fight for CF patients.
Their life is uncertain.
One moment, they're fine and the next, their heart stops beating.
Whether they're dealing with the symptoms of the disease or enjoying every second of their life, it's not certain if they'll live until the next day.
If you watch Five Feet Apart, bring tissues.
This movie is packed with emotional scenes that will make you look at life in a new perspective.
It teaches you that life is short and precious, and that you have to fight to make the most of it.
About the Contributor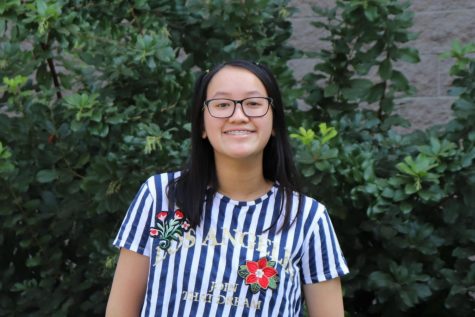 Chelsea Nguyen, Managing Editor
Chelsea Nguyen is a senior entering her third year in journalism. She runs multiple Instagram accounts, including one aptly named "chelsteaa" and a...